INTO THE SOUP WITH REBECCA: Storytelling and puppetry in a Delicious Mix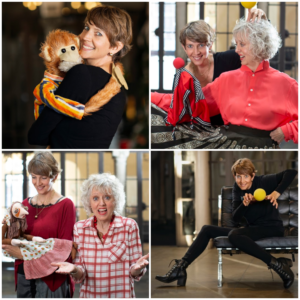 Nicole Cloeren, Karen Rae Kraut & Rebecca, the Monkey
FREE Live webinars brought to you by the on-line series of the McCallum Theatre's education program.
10:00 AM on Thursday April 15, April 19, May 13, May 27 (a recording of the live event will be available to view up to a month post airing)
Best for Grades: Pre-K-2nd (but fun for anyone who likes a good story)
Join Rebecca the Monkey and her human friends, puppeteer Nicole Cloeren and storyteller Karen Rae Kraut, for a touching story and fun ways to explore story themes through the use of puppetry. Nurturing the imagination, telling vivid stories from around the world, and engaging young learners in activities that allow for creative expression and social emotional learning are cornerstones of Into The Soup with Rebecca.
Register to see the live webinar OR to watch the stream up to one month post airing. Register here: https://www.mccallumtheatre.com/online-series/performances
AROUND THE WORLD WITH KAREN & NICOLE
Sponsored by Inlandia Institute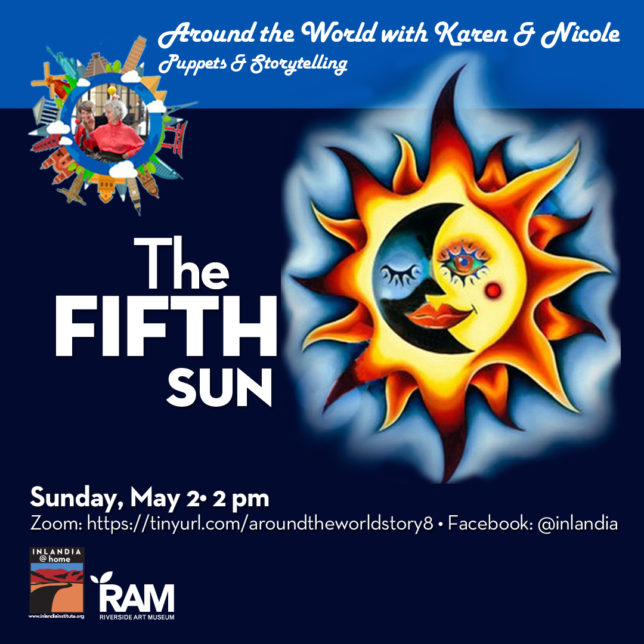 The Fifth Sun
"The Fifth Sun" is an Aztec creation story from Mexico. For four consecutive tries, the Aztec gods have failed to put the sun and moon up in the sky. Will they succeed with the fifth sun?
TOWARD PEACE: Universal Stories of Friendship & Understanding
Sponsored by The Mission Inn Foundation & Inlandia Institute
Good Advice
Saturday, May 22 • 2 pm • FREE
Register for Zoom webinar here: https://us02web.zoom.us/webinar/register/WN_D5PWZChrR226VMiQuatwhg
In this bi-lingual tale from the American Southwest, a simple boy receives 3 pieces of advice from a mysterious wise woman and by following them in his simple way is able to marry a princess, kill a monster and receive his weight in gold.
PAST RECORDED PROGRAMS AVAILABLE on INLANDIA INSTITUTE YouTube: